The Carpet Boutique
The Carpet Boutique is a family owned flooring business that has been serving the South Florida community since 1979. The Carpet Boutique is the source for designers & consumers looking for quality, sophisticated flooring. The Carpet Boutique has two showrooms with exclusive carpet, hardwood, sisal, & area rugs to meet all your decorating needs.
Our business is based on long lasting, well established relationships. We at The Carpet Boutique build relationships with our customers to ensure we understand their lifestyle and decorating needs. We provide them with the flooring products and services they need. With a continuous commitment to honesty, fairness, and respect we continue to exceed the expectations of our customers in quality flooring, professional service and exceptional value.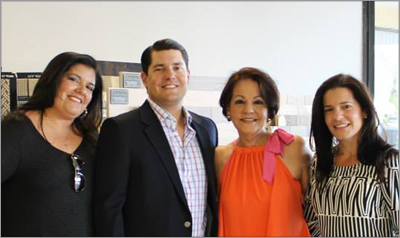 Clara Gonzalez and her three children, Clara, Manny, and Adriana

Our Team
We have the products, people and knowledge to help you create your dream floor. Let us help you put the finishing touch to your décor. Our design team will guide you through every step to make sure you are completely satisfied. Our design team consists of:
Clara Coronado: clara@thecarpetboutique.com
Clara Gonzalez: chg@thecarpetboutique.com
Manny Gonzalez: manny@thecarpetboutique.com
Patricia Lopez: patricia@thecarpetboutique.com
Raul Rodriguez: raul@thecarpetboutique.com
William Rojas: william@thecarpetboutique.com


International Design Guild
Established in 1998, the International Design Guild is the only luxury flooring alliance in the country. We offer programs for both showrooms and their affiliated interior designers that include access to exclusive products, the power of collective buying, and robust operational tools.
The luxury consumer is unique among consumer categories. Quality and style, in addition to value, are important considerations of their purchases, making this market segment particularly demanding. The International Design Guild is expertly positioned to meet the demands of this consumer, and to support the showrooms and designers that service them.
Our ongoing efforts to help build the business of our memebers include exclusive new products offerings, custom marketing initiatives, and energetic use of digital media on the internet and social networks.